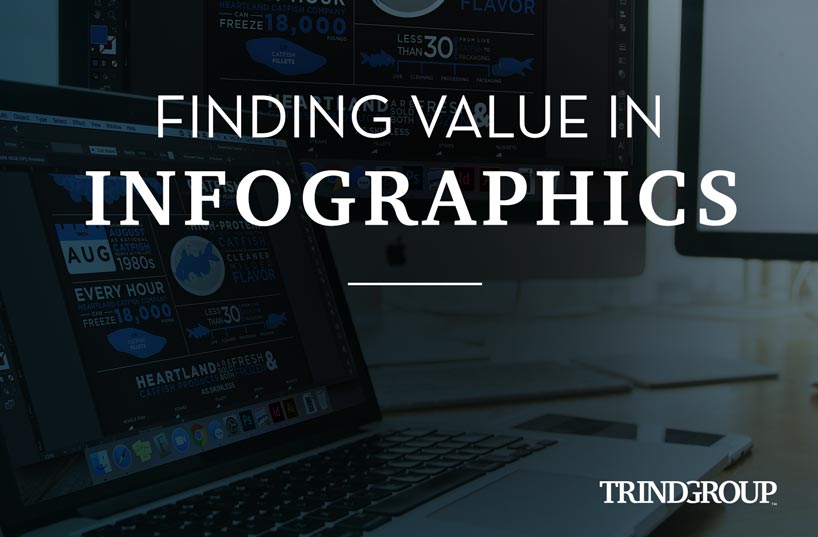 Communicating a wide-range of information about a particular topic to a diverse audience can be challenging. Is it best to do this in writing, via a press release or report? Can the information be conveyed using a slideshow of photos? TRINDGROUP loves the versatility of the infographic.
Infographics marry concise text with graphics to convey a given set of information in an easy to understand, visually appealing manner. They allow the user to digest the information in small segments while also telling a larger story.
At TRINDGROUP, we use infographics on behalf of our clients to convey complex information in fun, easy-to-read yet effective ways. For one of our wastewater clients, OxyShark, an infographic was the perfect way to communicate several product benefits using playful font styles in the shape of a water droplet. Another infographic project for Heartland Catfish Company, a client in the seafood industry, was so full of valuable information that we were able to repurpose it as a fact sheet to support a larger campaign.
Here are a few tips to keep in mind when planning an infographic:
Keep the text to a minimum. An infographic is, first and foremost, a graphical representation of a set of information. Don't overwhelm the design with text.
Pick a theme and stick to it. Whether you're communicating facts about wastewater, seafood or something in between, if your infographic covers more than one idea, make sure they all tie in to a common thread.
Work within your brand standards. Allow your audience to visually connect the information presented with the rest of your branded material by using fonts, colors and other design elements that are familiar to the audience.
Be mindful of the intended medium. Infographics are ideal for blogs, social media and as support materials for various communication channels, but each channel has its own specifications. Make sure the design of the graphic works well, no matter the chosen medium.
Infographics are a fun, effective, visual way to add to a content marketing strategy. Learn more about our content marketing expertise and get in touch to explore how infographics can help you extend your brand's reach.