Website Development and Rebranding
Your Website Reflects Your Brand
First impressions matter.
Beautiful website development and design is the first impression of your business, and it needs to be on point. From functionality to the look to the messaging, your website should be a true reflection of your brand.
Does your website answer your customers' questions, both visually and through content?

Does it quickly direct customers to the products and services you offer?

Could it take the place of an in-person sales call if it had to?

Would your potential customer leave placing an order, leave looking forward to a conversation with a member of your sales team or leave scratching their head wondering what it was that your company does?
TRINDGROUP understands the importance of knowing your business and your customers. Website development and design should represent your brand and present product and service solutions to your target audience.
What's Included in the Website Development Process?
Below are some important steps TRINDGROUP will review with you:
Market research to better understand your audience and what makes them convert
Website structure development and website interface design
SEO-focused copywriting and content strategy
Sales and marketing portals, when needed
Website training
Marketing automation integration, when needed
CRM automation integration, when needed
Measurement integration (Google Analytics and other measurement tools)
Photography, when needed
3D visualization and Motion Graphics, when needed
What is a Website Rebrand?
It's amazing how quickly your company website can feel dated. If your website is only a few years old and just needs an updated look, we can help. Website updates or rebrands, as we like to call them are great way to get your company website on track and more competitive.
TRINDGROUP will conduct an audit of your website, listen to your ideas, make suggestions and together formulate a plan to update your design, content and in many cases messages to get you back in the game. We use your current website CMS platform (WordPress for example) and update your design and content.
What's included in a website rebrand?
Audit of current website to access functionality capabilities and needed updates
Update website interface design
SEO-focused copywriting and content strategy
Addition of sales and marketing portals, when needed
Photography, when needed
3D modeling and motion graphics, when needed
Websites That Look Great on The Frontend and Backend
User Experience (UX) at the forefront
Your website build goes beyond content and photos - What is the most important message you want to convey?
Calls to action to create conversions
Copywriting and a content strategy that sells your company, your products and services
A website's backend is just as important as the front end – accessibility, search engine optimization (SEO), speed and responsiveness all matter
Focus on Technology and Research
ClearSign
ClearSign's original website was informational but needed a boost of product imagery and straightforward technological descriptions to appeal to target audiences. TRINDGROUP created a clean, responsive website that highlights products, research and technology in a user-friendly format.
VIEW WEBSITE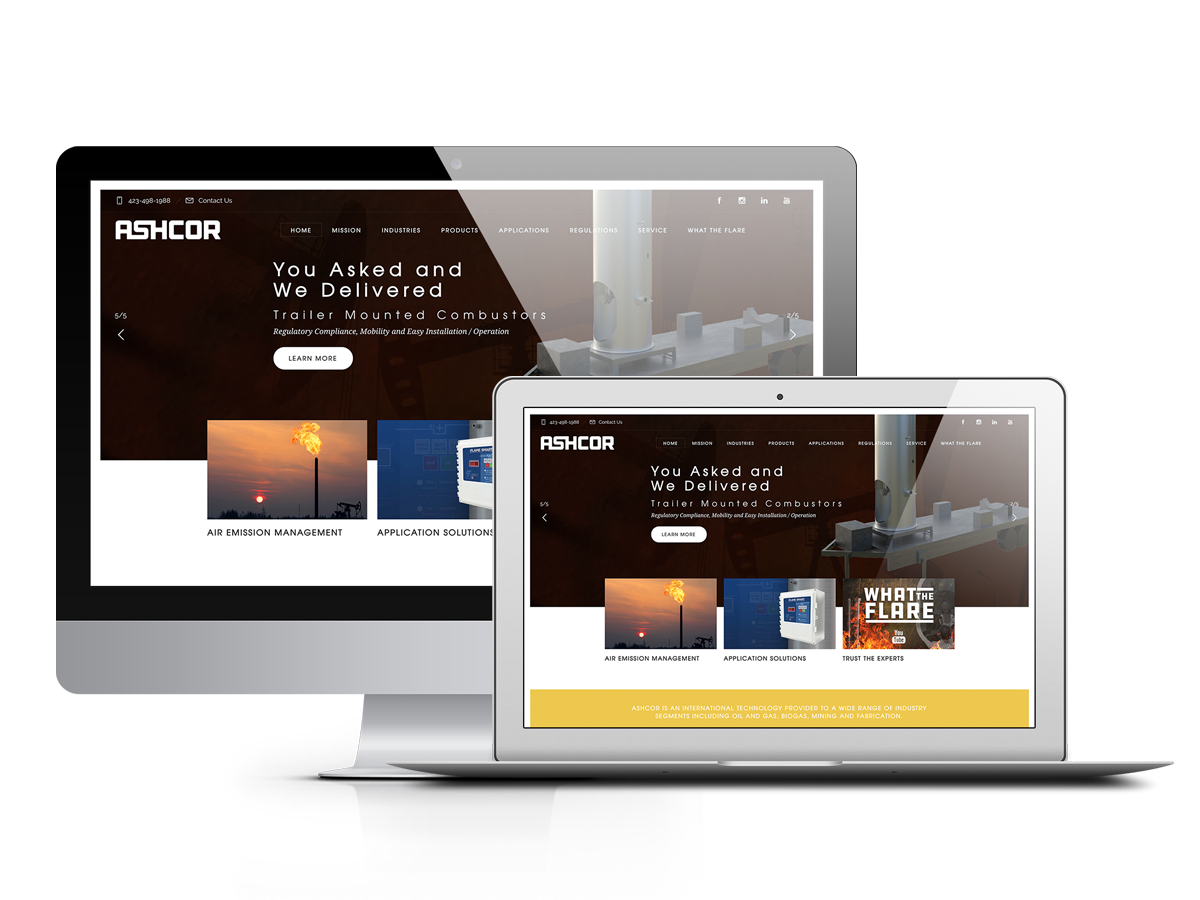 Products are Front and Center
ASHCOR
ASHCOR manufactures products that can be difficult to display online. TRINDGROUP's design team created a fresh, product-centric website using 3D models paired with images of products in the field that leave customers confident in ASHCOR's quality and credibility.
VIEW WEBSITE
Boats Brought to Life with Product Imagery
Silver Ships
Silver Ships builds mid-sized workboats for multiple marine sectors, and their sales team relies heavily on showcasing prior projects using photos and videos. When it came time to rebuild the Silver Ships website for customer ease of use, TRINDGROUP incorporated action-based photos and videos to bring each product description to life.
The Silver Ships website was constructed with future company growth in mind, so new pages are easily added as product lines expand. Additionally, social media presence is important to Silver Ships, so TRINDGROUP incorporated easy access to social media pages within the site build.
VIEW WEBSITE