March didn't start out like any other month.
My trade shows began to cancel and I started wondering what would happen if many more of the trade shows on my list postponed? Would I seek out different shows with spring always being such a busy time for me to make new contacts and uncover new business opportunities?
The last trade show I attended was on March 4th. By March 11th there were no trade shows left on my Q1 and most of Q2 calendar and by March 18th I was sheltering in place and working from home. Sound familiar?
It's now April 1st and I should be putting together my monthly recap, reviewing contacts made and assessing what my company can offer them, but instead I find myself wondering if April and possibly even May will be the same.
I'm filled with hesitation to reach out because I don't want anyone to think offering my companies services is insensitive but at the same time I am struggling because what my company offers is what most businesses need most right now:
Messaging, Communication Strategy, Public Relations and Digital Marketing…
As I write this, I've decided 3 things:
 I'm going to stop questioning my current value and focus on the things I can control and how can I help my organization and other organizations in the industries we serve. We will all get through this but our organizations will look different, no doubt.
Like the clients we serve, I've turned to my strategy and reevaluated where I go from here.
I'm going to give myself 2 hours each day to catch up on tasks that I've been putting off for months and months. There is no time like the present to plan for the future.
Here are some specific tasks I plan to concentrate on (and maybe you could too):
• Update our website. With more people online now more than ever—it's a great time to make sure our website is updated with fresh content.
• Figure out where we are in our crisis communication plan. (If you don't have one, now might be the time!)
• Make sure I'm communicating with not only my internal team but all clients and potential new clients.
• Make sure to deliver simple, proactive messages to all my audiences.
I work with an amazing team of uber talented marketers, designers, public relations practitioners and we make the magic happen for our clients!
So… There is good chance you will be hearing from me and it's worth your time as I'll be offering both FREE and PAID services alike. I hope you'll take my call, reply to my text, respond to my email or accept my connection on LinkedIn – even if to shoot the breeze!
Priorities may have changed and your focus may have shifted but decision-making has not stopped. Our current and future clients rely on organizations like TRINDGROUP and other B2B agencies to get them through because we will carry on.
In the meantime, how can I and the TRINDGROUP TEAM HELP YOU?
Here's what I'm thinking:
B2B Brainstorming Buddy – 30-minute free consulting session where one of our strategists' listens, offers advice and a platform for evaluating your current marketing strategy and provides feedback for you, your marketing team or business development team.
For example:
• Do you rely on trade shows? If so, what do you do now? We are here to help you get creative on how you may want to refocus your tradeshow materials and help you think through this unexpected phase of your business.
• Are you doing something that needs to be shared with the world? Let our PR team help or provide advice on how you can make this happen.
April will be a tough month but we will get this and be stronger on the other side.
I hope the old saying is true and April showers really do bring May flowers.
I look forward to connecting with each of you!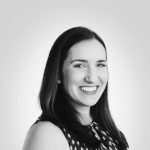 Charissa Jones serves as the Director of Business Development for TRINDGROUP.  Charissa's background is in communication, building relationships and providing solutions. Before TRINDGROUP, Charissa spent eight years in the banking industry before being recruited back to her communication roots. Her passion for connecting industrial businesses and marketing stems from a desire to see business-to-business companies explore new segments/subsegments and exceed their expectations. The ability to translate a company's business goals into an actionable marketing plan is very rewarding.
Charissa holds a B.A. in Communication and a minor in Psychology from Auburn University.
CHARISSA JONES
Director of Business Development
TRINDGROUP