Websites: Their Lifespan and Tips to
Determine if You Need a New One
How long has it been since you've updated your website? 3 years, 5 years, 10 years, dare I say it… over a decade? Well, if any of these answers sound familiar, I'm afraid to tell you it's past due for some maintenance and perhaps an entire new website.
Websites in today's age are truly living organisms. At least, they should be treated as such. As your brand continues to elevate, sometimes your website gets pushed to the backburner, leaving it outdated.
TRINDGROUP builds strategic, user-friendly and responsive websites. Primarily using WordPress, CMS as a building foundation. Our websites allow our clients to present their products and services to their customers in an easy-to-use and educational format. Take a look at some of our websites we've built through the years here.
TRINDGROUP recently embarked on the journey to evaluate and make updates/adjustments to our own website. We've introduced a new color in our brand. This may not seem like a big deal, but it is. A subtle change, such as a color update, can really make a website look fresh and new. Apart from a color update, we created new pages to help educate our clients and/or potential clients on what it's like Working With a Marketing Agency as well as the services we offer and industries we serve. We also took time in our website update to enhance and update Our Work. We've added projects based on individual services that we offer such as: 3D Modeling/Motion Graphics, Logos, Email-Marketing and Content Development. Our goal for adding these projects is to show our capabilities through client work and remind our current and future clients of all the things TRINDGROUP can do to help you and your business succeed.
When evaluating whether or not you need a website refresh, think about if your website is functioning for and meeting you and your user's needs. Is the message clear? Are you generating leads? Below are some tips on how to extend the lifespan of your website.
How to extend the lifespan of your website
Update Content: New images, adjusting/adding copy and even adding videos can help refresh your website. Adding a blog to your site can also help facilitate frequent content updates.
SEO: Keywords, meta descriptions, image alt tags and more can affect how your website is pulled by search engines. Updated content paired with strategic keywords can breathe new life into your site and allow for more visitors.
Call-to-action: If you don't have one, you need one! A clear call to action is a great way to prompt an immediate response from visitors.
Personalize Your Content: Has your audience changed or evolved recently? Tailor the content on your site to answer your target audience's most pressing questions about your products or services.
When is it time to update your website?
Below are a few tips to help you determine if you need a new website.
If your website does not reflect your brand. Are you using an outdated logo or color scheme? Are you using old marketing materials on your website? If the answer is yes, it's time for an update.
If it's not responsive across all devices. Websites can be accessed across multiple devices such as desktop, tablets and smartphones. More and more users use mobile devices for daily internet activity, so it's crucial that your site is responsive and mobile-friendly for these users.
If you have new products, services and accomplishments to share, but they're not listed on your site.
If your organic search traffic is down.
I'll conclude by giving you my own personal guide for evaluating websites from a designer's perspective. I'll forewarn you, I like to look at many elements and take multiple things into consideration. What I find most important is the first impression. It's the initial sign that determines what makes or breaks your site and if a user will engage.
Images. Poor image quality really effects the look and feel of your site. If you have poor images, consider using stock images or even hiring a photographer or illustrator. This will help personalize your site and stand out from your competitors.
Navigation. No one likes a cluttered navigation and nothing stops a user in their tracks or encourages them to leave your site faster. When a user either can't find what they are looking for or it's too much to digest, they leave. Consider simplifying and think of your audience when you view your website. Try viewing it from the perspective of someone who hasn't landed on your website before. What is it they see? If you can look at your site from another perspective and determine what may be challenging, then you are taking steps to correct and get your website in shape.
Branding. Using your color scheme, logo and messaging really helps tell your story and keeps it consistent across all your marketing materials. If someone picks up a trade show collateral piece and goes to your website is there any resemblance in your brand? Keeping these visuals the same really helps your audience stay on track.
Balance. Too much design or content can be a headache. Incorporating balance helps your readers navigate through your site and it also looks visually appealing.
Whether you need small maintenance or a new website I hope you take the time to consider these things as you embark on your next project. Get in touch and let us help you design and build your next project.
Reach Out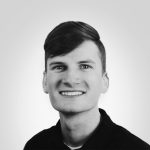 Wesley Coffman is a Graphic Designer who specializes in print and digital marketing assets. His expertise in Photoshop, Illustrator, and InDesign allows him to produce award-winning content that tells engaging stories. He is passionate about building and maintaining company websites and brand identities through consistent and cohesive design. His work is guided by a strong sense of discipline and the belief that graphic design can solve real world problems as a form of visual storytelling that communicates ideas and connects people through everyday materials and services. His work has been seen on local, regional, and national levels, while being recognized by the Public Relations Council of Alabama and the American Advertising Federation.
Wesley holds a B.A in Graphic Design with a minor in Art History from the University of Alabama at Birmingham.
WESLEY COFFMAN
Graphic Designer
TRINDGROUP