Welcome to the Team, Sarah!
We are so excited to welcome our newest team member, Sarah Kirk to the TRINDGROUP team. As a Content Creator, Sarah will work on creation of marketing materials across multiple channels including videos, blogs, email marketing,  photography and much more. She brings a unique skill-set to the TRINDGROUP team and we are thrilled to have her.
We sat down with Sarah to get to know her a little better and this is what she had to say:
Where did you attend college? 
Auburn University; I majored in Visual Media Studies.
Why TRINDGROUP?
TG was one of my first editing clients back when I was new freelance creator. I loved the collaborative atmosphere at TRINDGROUP from the very beginning. So, when I heard there was an opening, I knew it would be a great fit for me.
One fun fact about you?
I've been doing videography since middle school. I was even in a national competition for one of my documentaries in 5th grade!
What are 3 words to describe yourself?
I would say that I'm creative, hardworking, and artistic.
What's your hometown?
I'm from Tuskegee, AL, so I'm not too far from home.
What are 3 things you can't live without?
Definitely music, tea and movies!
Sarah has already become an invaluable player on our team. We look forward to utilizing her skills and getting to know her even better. Welcome to the team, Sarah!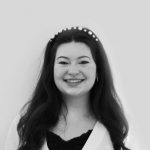 Alyssa Buzzeo
TRINDGROUP Intern