TRINDGROUP Celebrates Women, Creativity and the Success of Our Team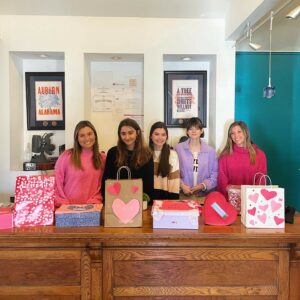 TRINDGROUP is a woman-led, industry-focused public relations marketing and creative design agency that employs primarily women. Our team is made up of astute, quick-witted, kind, intelligent women who are confident in the abilities and expertise they bring to the table. One of TRINDGROUP's goals is to create a supportive and nourishing environment for its employees; one where we can support one another and celebrate each other's aspirations and achievements.
During this month traditionally reserved for celebrating your special someone, we thought it would be fun to do something a little different to celebrate the women in our office and spread the love. So, this year, TRINDGROUP decided to adorn the office in pink, wear hearts on our sleeves (or sweaters!) in celebration of Galentine's Day.
Together, our team answered a few questions about what working with women and celebrating women means to them:
Shelby Wilson, PR Intern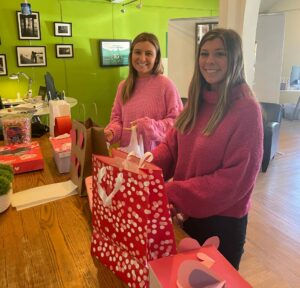 Shelby is a senior at Auburn University and a PR intern at TRINDGROUP. In her role, she works closely with our team to help assist in public relations and marketing efforts, organization and tying up loose ends.
"As a woman, we feel more pressure to be the textbook definition of 'perfect.' I think it's important to realize that almost every woman feels this pressure and as women we all need to support each other. Women supporting women means always uplifting one another, not wanting to bring each other down, and celebrating both the small and big wins."
 Sarah Kirk, Content Creator
As a Content Creator, Sarah works on the conception and implementation of marketing materials across multiple channels, including videos, blogs, email marketing, photography and much more.
"Working with other women is important to me because it builds a community of strong women with innovative ideas in the workforce. One that I am proud to be a part of."
Sarah mentions the diverse skills of women in the workplace. "Celebrating other women is an easy thing to do when I am surrounded by so many talented women in the office. Each one of our team members has unique skills that both make them who they are and allow us to do what we do as a women-led company."
 Sarah believes that working within a strong community of women is empowering and encouraging.
Natalie Turner, Social Media Coordinator
Natalie is our Social Media Coordinator at TRINDGROUP. She spends much of her time curating content for our client's social media platforms and working alongside our clients to build a successful social media strategy.                
"Working with women is important to me because it provides inspiration when I see a woman succeeding in the workplace. It is important to feel supported by the people you work with. I feel this every single day at TRINDGROUP."
To her, women supporting women means encouraging, loving and celebrating one another.
Hannah Jones, Graphic Designer
Hannah uses the visual process to tell a brand's story. She specializes in a broad range of both print and digital marketing assets. Hannah is skilled in the many different applications of design: branding, typography, web design and advertising.
"Working in a women-led agency has opened my eyes to the many different skills in the office. Each woman in the agency plays a role in marketing each brand across multiple platforms. Everyone works together as a team to execute each project seamlessly."
Hannah believes that supporting women means "being there for one another and loving one another. It means putting your own needs aside to help those around you." ­
Kelli Hartsock, Vice President of Operations
Kelli's role at TRINDGROUP is to lead our team across all areas of operations, project management and client services. She supplies our team with confidence, education and expertise as we help our clients be successful.
"As women, we all have many roles: wife, mother, friend, daughter, sister, co-worker and neighbor—It's important to take the time to encourage each other and build each other up daily. Consistently keeping in touch with friends and co-workers daily or weekly via social media, text or a phone call is a great way for us to support each other whether it's in or out of the office. We're in each other's corners."
At TRINDGROUP, we prioritize togetherness, encouragement and championing one another daily. To us, client success is just the tip of the iceberg. We all work diligently to make sure everyone in the office––including our clients––is taken care of, satisfied and positioned on a path to success.
For more information about TRINDGROUP, or to find out more about our client services, get in touch with us.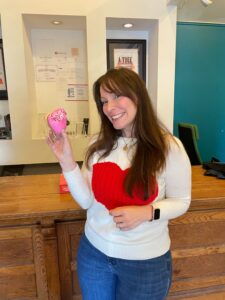 .