Flame Smart
Burner Management Systems
Flame Smart is a cost-effective, technologically advanced and easy-to-use alternative to traditional burner management systems (BMS). TRINDGROUP developed a brand strategy from the ground up to introduce the state-of-the-art Flame Smart BMS to the market.
Launch Website
Client

Flame Smart

Industry

Oil and Gas + Engineering

Services

Public Relations, Marketing, Creative Design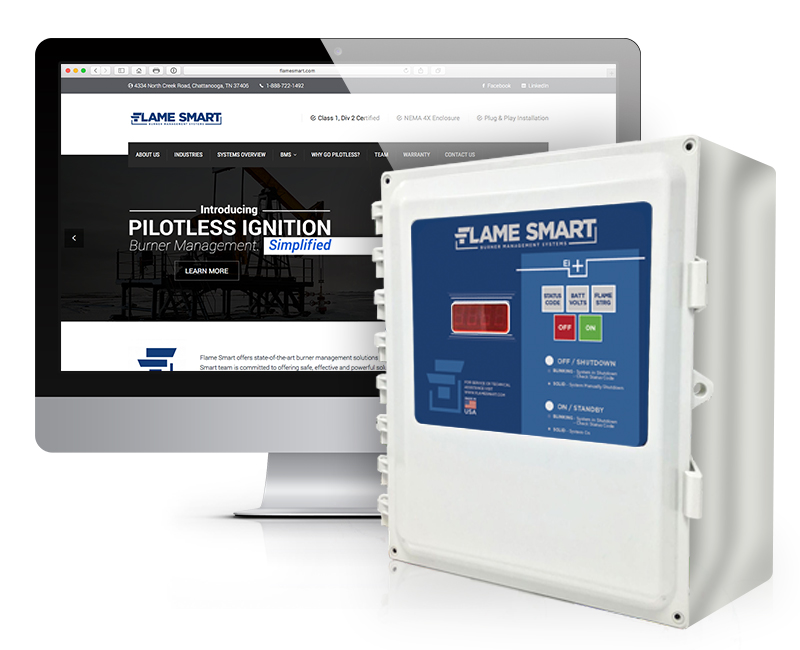 Branding from the Ground Up
TRINDGROUP started from the beginning when building Flame Smart's brand.
Initial efforts began with logo design, website development and creation of Flame Smart's actual look – the panels positioned on each BMS. Additionally, the team created packages for the various systems to assist with consumer selection.
Making an Early Impact
Evaluation of Flame Smart's branding tactics is continuous, but the introduction of the brand into the market has proven to be successful in both purchases made and overall brand recognition.
Client Services
PUBLIC RELATIONS
MESSAGE STRATEGY
PRODUCT LAUNCHES
SOCIAL MEDIA
MARKETING
MARKETING CAMPAIGNS
BRANDING
ADVERTISING
MARKET RESEARCH
CREATIVE DESIGN
PRINT & DIGITAL DESIGN
WEBSITE DEVELOPMENT
PHOTOGRAPHY & VIDEO PRODUCTION
Award-winning Brand Development
User-Friendly and Unique Look
TRINDGROUP worked with the engineers behind Flame Smart to design an interface that was easy to recognize and use for operators who would be working with it in real-world applications.
Additionally, using clean, simple photography and product models and incorporating the brand's cool blue and gray color scheme throughout brand material development reinforced Flame Smart's qualities of being industrial, innovative, clean and modern.