The Public Relations Council of Alabama is committed to promoting the professional and ethical practice of PR. A community that develops both current and future practitioners through effective member action and strong volunteer leadership.
In our line of business, the TRINDGROUP team often works behind the scenes, helping our clients to step into the spotlight and share their brands with the world. We are proud of the achievements we earn for our clients, so when the spotlight recently turned to us, we were honored to be recognized on their behalf.
In April, TRINDGROUP received awards from the Public Relations Council of Alabama (PRCA) – our team entered five submissions for consideration, and all five entries were awarded. In fact, TRINDGROUP was one of the most awarded entities to represent our local PRCA chapter, earning recognition for our B2B work in a primarily B2C competition. With such talented practitioners at work throughout the state of Alabama, receiving these honors has been even more gratifying.
Every year, PRCA judges dozens of member submissions in multiple categories, including strategic programs, strategic plans and tactical materials and projects. Entries are evaluated on their own merits for research, planning, implementation, evaluation and creativity by accredited public relations practitioners across the country. This year's entries were judged by members of the Richmond, Va., chapter of the Public Relations Society of America (PRSA). The highest honors are Medallion awards, followed by Awards of Excellence and Awards of Merit. TRINDGROUP is proud to have brought home two Medallion awards, two Awards of Excellence and an Award of Merit.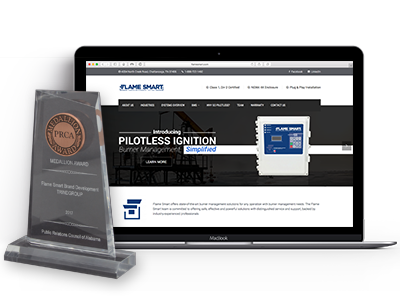 Flame Smart Brand Development – Medallion Award
Flame Smart developed a cost-effective, high-performance, technologically advanced and easy-to-use alternative to traditional burner management systems (BMS). A BMS is a safety solution for control and monitoring of burner units in applications such as oil and gas, manufacturing and food processing, among others. To stand out among competitors with a product launch, TRINDGROUP developed a new, private-labeled product line complete with brand guidelines, logo, website, collateral pieces and packaging. Check out our Flame Smart case study here.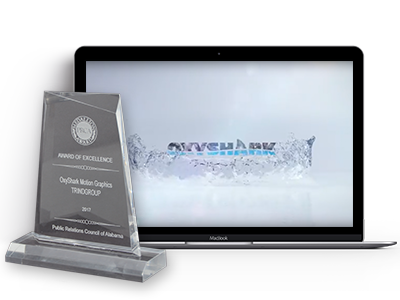 OxyShark Motion Graphics – Award of Excellence
OxyShark® Water Reclamation is a wastewater treatment system used to treat domestic, commercial and industrial wastewater. The "action" within the system happens at a microscopic level, and the system itself is housed in what is virtually a large box. These factors rendered photography, traditional videography and verbal explanation inefficient to thoroughly explain and promote the complex, intricate system. TRINDGROUP created cutting-edge motion graphics to showcase the system's process in an understandable and engaging way. Click here to view the full motion graphic.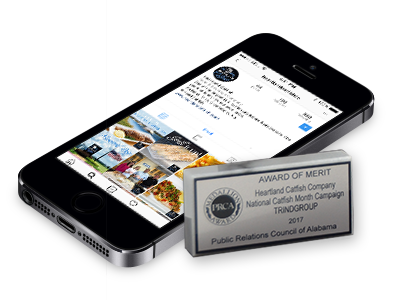 Heartland Catfish Company National Catfish Month Campaign – Award of Merit
Heartland Catfish Company, the leading producer and processor of U.S. Farm-Raised Catfish in the country, partnered with TRINDGROUP to increase brand awareness among end consumers and advance the brand's reach into the seafood market. TRINDGROUP launched an initial social and traditional media campaign during National Catfish Month to separate Heartland Catfish Company from the commodity catfish marketplace and establish the company as an expert and leader in the catfish industry.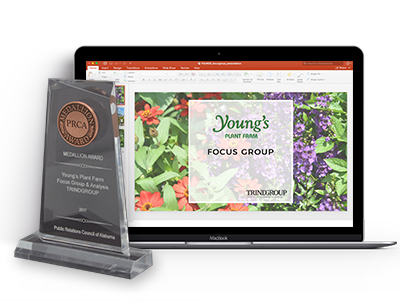 Young's Plant Farm Focus Group & Analysis – Medallion Award
Young's Plant Farm, a regional wholesale grower of flowering plants, has grown since its founding in 1961 to accommodate customer tastes and demands. As part of Young's Plant Farm's commitment to "growing the best plants," the company's internal team seeks to understand how changing consumer behaviors affect shopping for live plants. TRINDGROUP led a focus group and analyzed its results to assist Young's Plant Farm in understanding how consumers of different demographics shop for, select and use live plants, as well as their thoughts on the future of live-plant retail.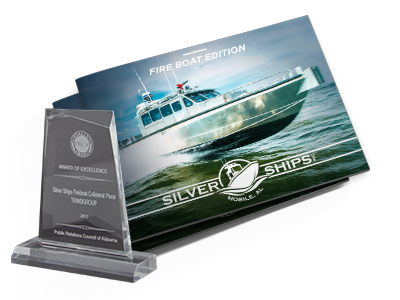 Silver Ships Fireboat Collateral Piece – Award of Excellence
Silver Ships produces high-quality aluminum boats for military, federal, state and municipal governments as well as commercial applications through collaboration with highly skilled design, engineering and production resources. As part of a strategic plan to help Silver Ships expand its target market, TRINDGROUP created a high-quality fireboat collateral piece for the company to use at trade shows and in sales presentations.